Former champ Parker wants a Brit more action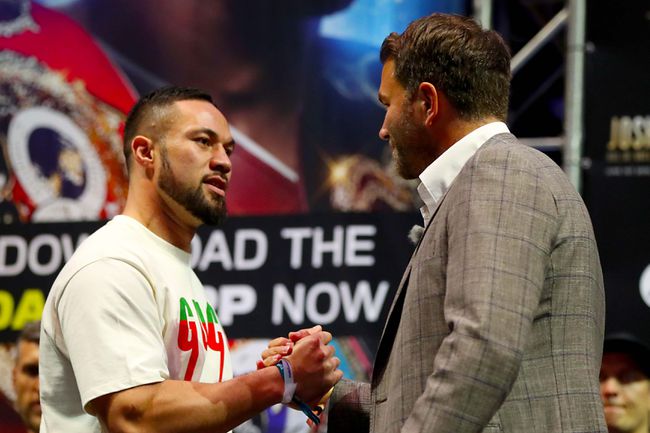 Joseph Parker is gunning for Derek Chisora and the winner of the proposed bout between Oleksandr Usyk and Joe Joyce — if he beats Junior Fa.
The former WBO world heavyweight champion, 29, knows he cannot take anything for granted when he steps into the ring against his fellow New Zealander in Auckland on Saturday.
But he has high hopes for an action-packed 2021, with popular Brit Chisora, 37, next in his sights.
Speaking to Sky Sports News, Parker said: "I'm open to fighting anyone. But my promoter Eddie Hearn and [manager] David Higgins have got a clear pathway for me this year.
"Take care of Junior, then Chisora, then the winner of Usyk and Joyce.
"There is a path and it's quite exciting because a lot of fighters want to know what they're going to do after their next fight.
"But again, the focus is on Junior because if I don't get past him, there's no point even looking at those fights."
Ready to rumble in New Zealand
Parker's first bout on home soil since December 2018 is set to take place in front of a significant crowd at the Spark Arena.
But he would relish the opportunity to return to the UK when fans can attend in large numbers once again, despite the fact his only two defeats as a pro have been inflicted by Brits.
Parker, who lost on points to both Anthony Joshua and Dillian Whyte in Britain in 2018, added: "I love the UK. I love the media, the respect. We've gained a lot of friends and supporters there.
"In a perfect world, I'd love to take care of business on Saturday then come to the UK and take care of business, then not far off that, fight for the world title."
The focus is on Junior because if I don't get past him, there's no point even looking at those fightsJoseph Parker
Fa, 31, is unbeaten in 19 fights but Parker (pictured above, left) is determined to deliver against his countryman.
He said: "No disrespect to Junior, he's a top guy, but there are other guys out there who are more dangerous who I really want.
"I can't get to them unless I take care of business here."